Houston Happenings: Nature Center Renovations, TUTS Spring Awakening Cast & New SBEF Board Members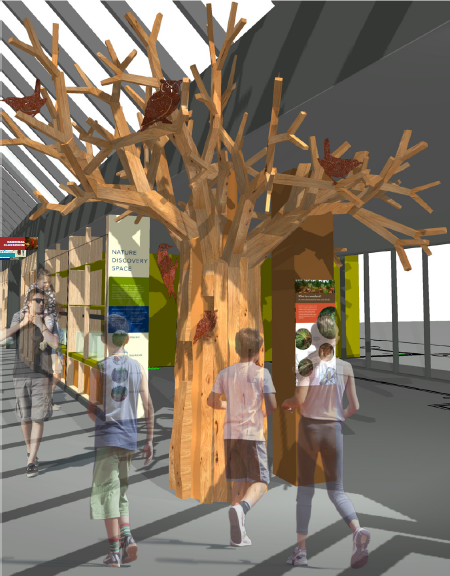 Houston Arboretum & Nature Center Begins Phase One of Nature Center Building Renovations
Renovations of the Nature Center building have begun and the two-phase building overhaul will be ongoing through early 2020. Part of the Nature Center will remain open to the public throughout renovations, while all fall programming will continue as planned. Phase 1 renovations will last until November 2019 and will focus on the original 4,000 square feet of the Nature Center building built in 1967. This portion of the building will be converted into a new Nature Shop and two new classrooms. Additionally, the building's main entrance will be moved back to its original 1967 location on the western front of the building and the outdoor bathrooms will receive much needed updates.
The second phase of the Nature Center's renovation is scheduled from November through early 2020 and will focus on the newer portion of the building which was added in the '90s. This remodel includes needed updates to four existing classrooms, conversion of an old library (recently used as office space) into a new classroom, addition of a new outdoor classroom and construction of the new Discovery Room.
Theatre Under The Stars Announces the Cast of Spring Awakening
When it debuted on Broadway, Spring Awakening offered a raw and honest portrayal of youth in revolt, shattering expectations of what musical theatre can be. Now, TUTS's rendition of the Tony Award winning play will be directed by Taibi Magar and choreographed by Marlana Doyle. Leading off the cast are Sophia Introna as "Wendla," Wonza Johnson as "Melchior," and Nathan Salstone as "Moritz". Casting for the show is provided by Associate Artistic Director, Megan Larche Dominick, CSA. Spring Awakening runs October 8 through 20 at the Hobby Center for the Performing Arts.
SBEF Announces New Board Members
The Spring Branch Education Foundation has provided a vehicle for donors to make tax-deductible gifts to benefit Spring Branch Independent School District to enhance the education of its 35,000 students. The foundation has awarded more than $13 million to SBISD since it was founded in 1993. Now, the SBEF has named new members to its Board of Directors for the 2019-20 year.
According to a news release, community leader and volunteer Jennie Baker will serve her second year as the Board's chair. Baker has been a member of the SBEF Board for 11 years, serving in a variety of leadership roles. New members to the SBEF Board of Directors, serving three-year terms, are Andrea Bishop, community patron; Thomas DeBesse, region bank president, Wells Fargo; Kevin Doffing, president, Sam's Safety Equipment; Stacey Merchant, community patron; Colby Mueck, senior managing director, co-head, HFF, LP; Kelly Siblik, community patron; Langston Turner, managing director, UBS Financial Services, Inc.; Mauricio Valdes, owner, Tu Casa Realty; Elizabeth Wang, attorney, Perdue Brandon Fielder Collins & Mott, LLP and Chris Weekley, executive vice president, David Weekley Homes.